Morning everyone! Here is our kiddo menu for today:
Morning breakfast
:

Three egg omelet with cheese
Crack the eggs into a bowl. Add a few spoonfuls ofmilk, a generous pinch ofsalt, and some freshly ground pepper. Combine the ingredients with a fork until incorporated and smooth.
Over medium heat, melt a generous pat of butter in the frying pan and swirl it around to evenly coat the sides and bottom. Pour in the egg mixture.
As the eggs start to set, use arubber spatula to gentlypush aside a small patchof cooked egg, then tilt the pan so that uncooked eggfills in the gap. Repeat, working your way around the pan until the eggs have reached the consistency you like.
Sprinkle grated cheeseevenly over the cooked eggs. At this point you can also add any other fillingsyou might want, such as fresh herbs, avocado, smoked salmon, cooked ham,and sun-dried tomatoes, Turn off the burner.
Using the rubber spatula,lift up one edge of the omelet and roll it over itself about one-third of the way. Hold the pan over a plate and let the omeletstart to slide onto it,flipping the pan at the last minute so the omelet folds over itself again.
Lunch:
I
f You Love Pizza, Try it in a Panini!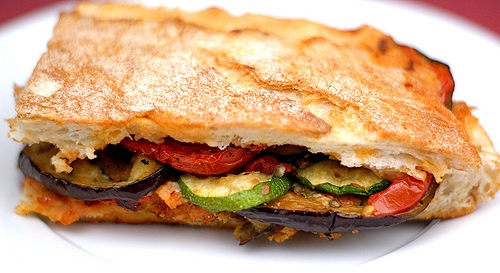 Homemade Pizza Sauce (leftover from pizza night two days ago)
1 small yellow onion, chopped
2-3 cloves garlic, minced
Crushed red pepper, to taste
1 tsp. fennel

1 small can tomato sauce

1 can diced tomatoes, drained
2 T tomato paste
Pinch of sugar

Salt and pepper, to taste

1 tsp. dried oregano

Fresh basil, chopped-to taste
1. In a medium pan add the olive oil. Over medium heat, saute the onion and garlic until tender. Add in the crushed red pepper and fennel. Saute for one minute.
2. Stir in the tomato sauce, diced tomatoes, and tomato paste. Stir well. Season with pinch of sugar, salt, pepper, oregano, and fresh basil. Simmer for 30 minutes.
Then you slather each slice of bread with pizza sauce. Then add mozzarella cheese, roasted vegetables, and fresh basil. Heat up a panini maer and smashed down until the cheese is melted and oozing out the sides. If you don't have a panini maker don't worry, you can use two frying pans-one to heat up the sandwich and one to smash it down.
Dinner:
Oh So Yummy, Chicken Pesto Pasta
This dish could not be any simpler to make and it is oh so yummy! It has 3 of the best ingredients out there: chicken, pesto, and pasta. Oh wait, don't forget the parmesan cheese!!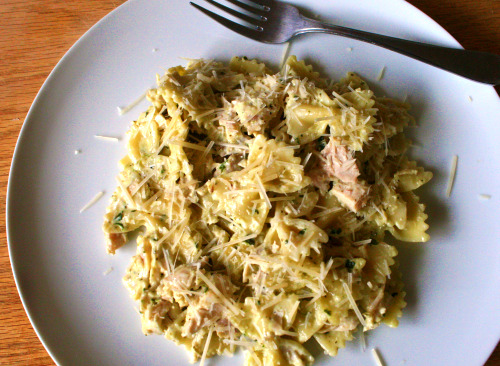 Recipe for Chicken Pesto Pasta – makes 4 servings

3/4 cup heavy cream
1/4 cup pesto (used the already made from Costco) but down below is how to make it homemade
1/4 cup grated parmesan
salt and pepper to taste
1/2 box cooked pasta – we've got bowtie
3 cups cooked chicken shredded or cubed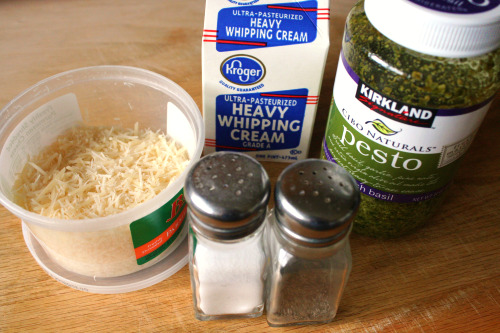 Make Your Own
Pesto

!
With only 4 ingredients, this yummy green sauce is so easy to make. It goes great with pasta, pizza, sandwiches, and is perfect as a dip for a crusty bread.
Basil is easy to grow and lots cheaper to grow on your own than buy in the store.
Recipe for Basil Pesto:
1 1/2 cup Basil – before chopping
3 Tablespoons Pine Nuts
1/3 cup Parmesan Cheese
1/2 cup Extra Virgin Olive Oil
Dash of Garlic Salt – optional
There are lots of recipes for pesto and with all kinds of ingredients. This recipe makes one cup of prepared pesto.
You will need a food chopper of some sort, even a grinding blender should work. I use this mini food processor, it's small but does the job. For Christmas, I'm finally putting a Food Processor on my list! Add your basil and chop, then your pine nuts, chop. Add Parmesan cheese, dash of garlic and your olive oil, and blend until pureed.
You can have it as chunky or smooth as you like. This was all that my chopper can do, perfect to top on my bread.
Method:
Cook and prep your chicken and pasta to your liking and combine in a bowl. Set aside.
For the sauce, bring your heavy cream to a boil, stirring constantly, it will come to a boil fast. Let this boil on medium heat for 4-5 minutes until it thickens up. Add your pesto and stir. Add your parmesan and stir until most of the cheese is melted in the sauce. Add your salt and pepper, not too much as the pesto and cheese have a lot of flavor by themselves.
Pour your pesto cream sauce over the chicken and pasta, and stir to combine.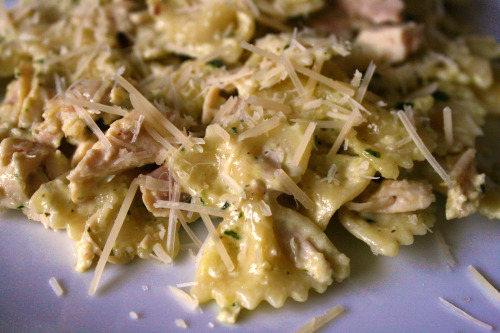 Now it's ready for dinner. See what I mean, soooooo easy! Just watch, you'll be adding pesto to everything you make! And cream, and cheese! Thank you to Make and Takes!!!!!!