The past few months have been BUSY!!!!! I apologize for not keeping up with my blog. This past May my boys turned 3 and 5 and we had the cutest Pirate birthday party...I have to share =D because it was sooo much fun to plan for. Thinking about planning this theme for your little buccaneer?
Here are ideas that I found for inspiration:
The map on the front is of Tom Sawyer's Island found on
Google maps =D In photoshop I edited it a little and put Pirate's Lair on Jayden and Ian's Island.
Here is the wording used in the invites that I made for my boys:
Ye be invited fer some fun at a Pirate Theme Party!
Captain ****child's name***
The Captain needs a crew to discover a bounty of hidden treasure
It's a scavenger hunt!

We'd be eatin good, delicious treats, and playing some fun games. See ye there! Arr!
Grub and grog will be served at
: 1:00pm
Sunday, May 23nd
Yo ho ho let us know
***phone number and or email****
desire to exercise your sea legs and search
The favorite for the kids was the cupcake kit. It's a 48 piece set that has 24 cases (or liners) and 24 assorted toothpick toppers. Kids just love cupcake toppers! Me, I have this thing for streamers and banners. They makes it an official party, so the pirate garland got an Arrr ("I agree or I'm happy") from me.
You'll have to remind your guests to bring their invitations because they double as a cute little wearable pirate hats! This set (#3 above) comes with thank you cards and envelopes as well. And of course no pirate party is complete with out a fabulous pirate centerpiece with piratey embellishments and pop outs that you can spread around the table! Staring at $4.50 @ MeriMeri.Com
COOL BIRTHDAY BANNER YOU CAN MAKE YOURSELF...VERY EASY IF YOU OWN A CRICUT MACHINE =D
use Mindy Terasawa's Little Treasures digital scrapbook elements.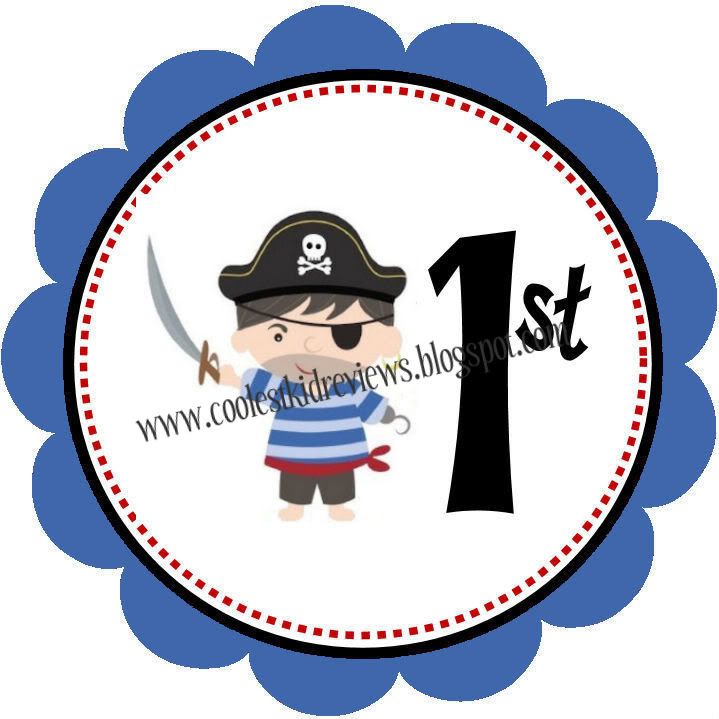 Go to your local appliance store and ask for a large appliance box. Cut it into the shape of a pirate ship and paint. Place blue plastic in front of it to represent water, so that the kids have to "walk the plank" to board the ship. String black balloons with crossbones above the table for a more festive feel. Here is what we did since I ran out of time getting the appliance boxes to make one...I found a self-inflated pirate ship ring toss game and added blue gossamer to look like water
. I made this game as part of the scavenger hunt...which I will go into detail shortly =D
These are so quick and easy for a pirate party. The kids or the adults will love them and you will love how quickly you can prepare them. Print and cut out the
template HERE on cream parchment paper. Poke toothpicks through the top and the bottom like the sail of a boat. I used them for my deviled eggs:
CHOCOLATE MOUSTACHES
These chocolate moustaches are a lot of fun for a pirate party
How to make chocolate moustaches on sticks
You will need:
chocolate buds or pieces

zip-lock bag

baking paper

skewers (cut in half) or lollipop sticks
Print out the
chocolate moustache template
and place a sheet of baking paper over it (or laminate it so you can re-use it). You can check on-line for a mustache chocolate mold. I happened to find one on Ebay.
Put the chocolate in a zip lock bag and melt it in the microwave in 30 second intervals. Cut a small corner off the bag and pipe over the moustache outline with the chocolate, then fill it in with more chocolate. Place the skewer or lollipop stick in the middle of the moustache and pipe a little more chocolate over the stick. To make the appearance of whiskers, use a fork to "brush" the chocolate. Store them in an airtight container.
They also make great party favours - simply place in a cellophane bag and tie with a nice ribbon.
The Ship (aka food table)
Deviled Eggs –
Simply add a sail to your egg halves.
Watermelon Boat –
Cut the watermelon to resemble a boat. Fill with
Cannon balls –
melon balls.
Here is mine and it was my first try at watermelon carving lol!
Sword kabobs –
Use plastic sword skewers for strawberries, grapes and cheese.


Fishy Sandwiches –
Make tuna salad sandwiches and use a cookie cutter to cut them into a fish shape. Add a raisin for the eye.
Underwater Snacks –
Spread cream cheese on crackers. Then add fish crackers on the cream cheese
Fish Sticks –
These could also double as swords
Macaroni-

(
golden treasures)
Chicken nuggets
with ketsup renamed ("Gold Nuggets with ruby sauce")
Hot dog octopus:
Cut the hot dogs in half lengthwise, keeping an inch intact at the top. Continue cutting lengthwise to create 8 hot dog tentacles.
Grog
In a large bowl, mix a 32-oz can of pineapple juice, one 12-oz can of orange juice concentrate, one 6-oz can of lemonade concentrate, five cups of cold water, one quart of 7-Up, and a quart of rainbow sherbet. Chill until ready and serve to the gang. Add slices of orange, banana, kiwi, or float cherries in the bowl for an added twist.
Water Labels:
Other Treasures
THE CAKE
The pirate ship cake (above) is the one I finally picked out and got it at Albertson's grocery store of all places....they did an awesome job on it and it cost me 40 bucks!
I made these Pirate cupcakes for Jayden's classmates =D I used cream cheese frosting (recipe below) and the eyes are candies from a candy kit at Target also in that kit was these little bone candies pictured on the cap....the kit was purchased during Halloween. The mouth was made from pez candies. I used a light peach food coloring for the cream cheese frosting. The cap and eye patch is frosting from the tube at Safeway lol!

Here is the cream cheese frosting:
Ingredients
1 pound cream cheese, softened
4 cups sifted confectioners' sugar
1 cup unsalted butter softened
1 teaspoon vanilla extract

1 teaspoon lemon extract (optional)

Instructions

Mix cream cheese with butter until smooth. Add extracts. Slowly add sugar and blend until light and fluffy! Fill and Ice cake as desired. Pecans can be added to top of cake for decoration. Use a piping bag with a round #8 tip to create fluffy cupcake tops!
The Games
check out this really cool bingo game I found...I used this game as another stop on the map for the treasure hunt it talks!! $16.99
check it out here